From JR Tokyo Station Marunouchi Underground North Gate (B1F) by foot
From JR Tokyo Station Marunouchi Underground North Gate (B1F) by foot
From JR Tokyo Station
Marunouchi Underground
North Gate (B1F) by foot
(The recommended route for wheelchair users and those who need to avoid steps)
Print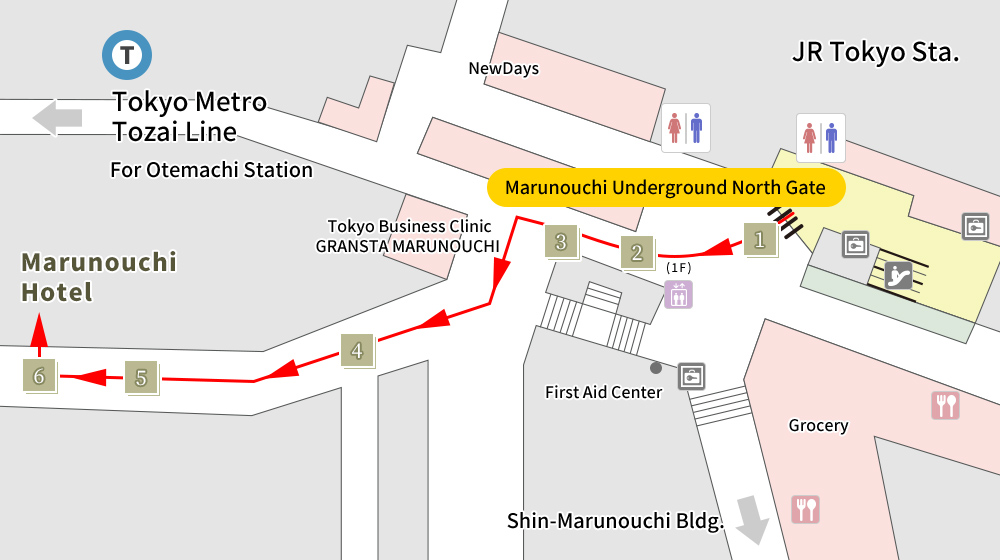 1

Go out of Marunouchi Underground North Gate. Ticket vending machines (JR Ticket Office) will be on your left. Go straight following the arrow sign.
2

A little farther on, you will see a purple gate ahead.
3

Go through the purple gate where it says, "for Imperial Palace & Otemachi."
4

Keep going.
5

Go through the auto door of oazo. "Kaneido" will be on your right. Go straight.
6

Just after the escalators, you will find the hotel entrance on your right.
7

Take the elevator to the hotel lobby on the 7F.
8

When you get to the 7F, go down through the elevator hall.
9

The hotel reception is at the end of the hallway on the right side. Welcome to our Hotel!